"Sinking Among Lilies" by Cory Skerry, from BCS #92, has been chosen to appear in the anthology Year's Best Dark Fantasy & Horror: 2013, edited by Paula Guran.
This anthology, published by Prime Books, will also include Peter S. Beagle, Jeffrey Ford, Neil Gaiman, and BCS authors Rachel Swirsky and Genevieve Valentine.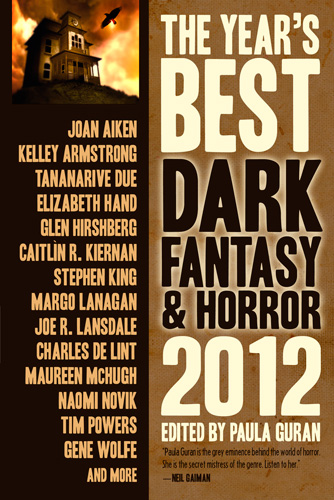 It's the second year in a row that this anthology will feature a story from BCS. Last year's edition (at right) included  "Walls of Paper, Soft as Skin" by Adam Callaway, from BCS #73.
Congratulations to Cory! "Sinking Among Lilies" is a fantasy 'lone-warrior' story with a great undertone of creepy suspense and oppression. Check it out, if you haven't already.