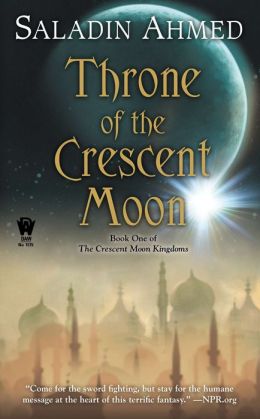 To celebrate the 100th episode of the BCS Audio Fiction Podcast, in addition to the special reading for episode 100, we are giving away two copies of the audiobook of BCS author Saladin Ahmed's fantasy novel Throne of the Crescent Moon.
The first giveaway is taking place here on the BCS website, in this post. It ends Wed. Apr. 3.
The second giveaway will take place Wednesday Mar. 27 on the BCS Twitter feed @BCSmagazine. It will run from 2 PM EST until 6 PM EST.
To enter, all you need to do is tweet what your favorite episode of the BCS Audio Fiction Podcast–your favorite BCS podcast story–is.
That will enter you in a random drawing for the audiobook. For the Full Rules, click 'Show Hidden Text' at the end of this post.
To get you started, here are links to the BCS Podcast episodes from 2013, 2012, 2011, 2010, 2009, and 2008. And here are just a few well-regarded episodes:
BCS 098: Sate My Thirst with Ink and Blood, by Adam Callaway
BCS 090: Worth of Crows, by Seth Dickinson
BCS 086: The Three Feats of Agani, by Christie Yant
BCS 080: Bearslayer and the Black Knight, by Tom Crosshill
BCS 071: To the Gods of Time and Engines, a Gift, by Dean Wells
BCS 055: The Ghost of Shinoda Forest, by Richard Parks
BCS 044: And Blow Them at the Moon, by Marie Brennan
BCS 041: Memories in Bronze, Feathers, and Blood, by Aliette de Bodard
BCS 039: Mister Hadj's Sunset Ride, by Saladin Ahmed
BCS 027: Great, Golden Wings, by Rachel Swirsky
BCS 005: Precious Meat, by Catherine S. Perdue
BCS 001: Architectural Constants, by Yoon Ha Lee
Good luck!
Full rules for the Saladin Ahmed Throne of the Crescent Moon audiobook Twitter giveaway:
You must tweet your comment on Twitter. Comments left anywhere else will not enter you in the giveaway.

You must include "@BCSmagazine" in your tweet. (This is so we can find it.)

You must tweet your tweet between 2PM Eastern Standard Time and 6PM Eastern Standard Time on Wed. Mar. 27. Any tweets posted before or after that will not be eligible.

You must mention an episode of the BCS Audio Fiction Podcast. Comments that do not mention an episode of the BCS podcast will not enter you in the giveaway.

All entries will be entered in a random drawing to win the audio book.

Each person will be entered only once in the random drawing (even if you post more than one eligible tweet).

You must tweet your tweet from a a valid Twitter account (otherwise we won't be able to contact you if you win).

BCS will conduct the random drawing from all eligible entries. If availability permits, the winner might get their choice of audio format between Audio CD and MP3 CD. The audiobook of Throne of the Crescent Moon will be mailed to the winner.

BCS is not responsible for tweets that get lost or don't show up under @BCSmagazine, or email addresses that get garbled or otherwise rendered unusable for contacting an entrant.

This promotion is in no way sponsored, endorsed or administered by, or associated with, Facebook or Twitter. Participants are providing information to BCS and Firkin Press and not to Facebook or Twitter or anyone else.
If you have any questions, feel free to ask them in this post or via our Contact page. Good luck!