BCS #151 is out today, featuring two stories of characters undertaking journeys to find themselves.
Cat Rambo ("Love, Resurrected" in BCS #65 and podcast BCS 058) offers "Rappaccini's Crow," a tale of a displaced veteran in a facility, dealing with scars physical and otherwise. Helen Marshall appears in BCS for the first time with "Crossroads and Gateways," a hunter hunting his past, his destiny, and his future.
Our 'From the Archives' story is "Throwing Stones" by Mishell Baker from BCS #47, featuring a protagonist facing struggles not unlike the ones in "Rappaccini's Crow."
The BCS Audio Fiction Podcast is on hiatus for a couple issues, but premiering this week is our new podcast: The BCS Audio Vault, which features classic episodes of our two-time Parsec Award-finalist podcast each introduced by a special guest author, editor or narrator. 
The premiere episode of the BCS Audio Vault is Chris Willrich's story "How the Wicker Knight Would Not Move" from BCS #99 in July 2012, introduced by Hugo Award-winning editor of Pyr books and middle-grade fantasy author Lou Anders.  Lou first encountered Chris's fiction here in BCS and liked it so much that he acquired three of Chris's adventure fantasy novels for Pyr Books. His perspective on Chris's work makes for a fascinating introduction to the story.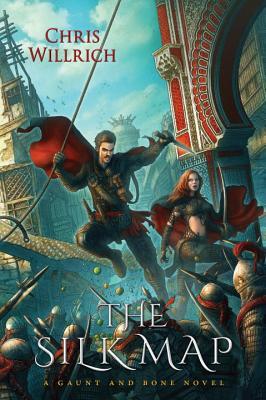 In conjunction with this premiere episode of The BCS Audio Vault, 001: How the Wicker Knight Would Not Move, we're giving away a signed copy of Chris Willrich's new second novel, The Silk Map, set in the same fantasy world. Enter the giveaway here.
Coming next issue: two authors new to BCS, with two dark stories, and another new episode of The BCS Audio Vault.